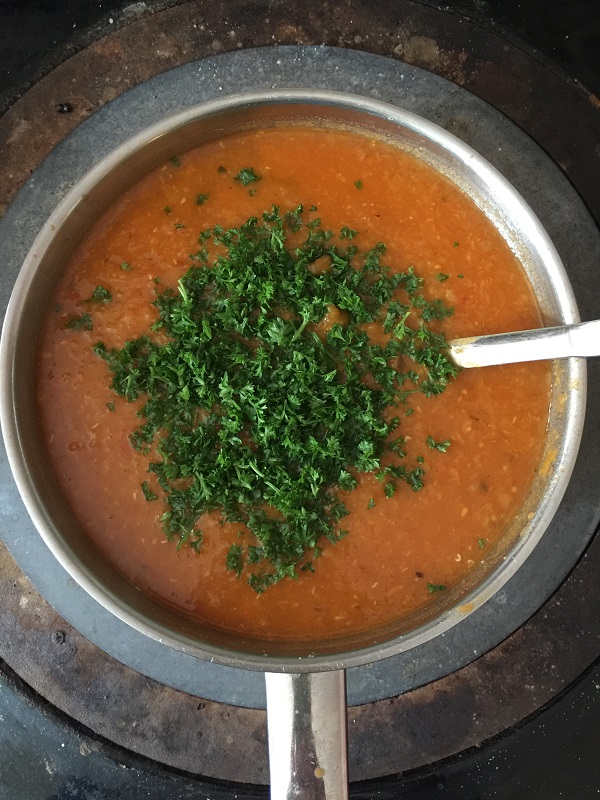 16 Apr

Red lentil and vegetable soup with parsley

A simple soup perfect for everyday. Red lentils require no soaking. They provide protein and are high in the mineral silica which is involved in collagen production of hair nails and skin. Their pinky orange colour  gives us great amounts of antioxidants for a healthy immune system. The vegetables are high in vitamins and minerals and this soup provides us with soluble fibre for a healthy gut and to help keep us regular.
I process the vegetables initially here to keep some texture rather than liquidising the whole soup.

1 onion, roughly chopped
2 carrots, roughly chopped
2 sticks celery, roughly chopped
2 cloves garlic roughly chopped
1 small sweet potato, peeled and roughly chopped
1 x 350g jar of Bunlaun organic tomato and vegetable sauce  or 1/2 of a 680g jar of passata (sieved tomatoes)
200g red lentils, rinsed in a sieve for a few seconds to remove any dust
2 tsp vegetable bouillon
1 tsp brown sugar
1 tsp salt
Handful of finely chopped fresh parsley
2 tbsp Olive oil

Place all the vegetables in your food processor and process till finely ground.
Heat the oil in a large saucepan and fry the veg for a few minutes.
Add the tomatoes, red lentils and bouillon, salt and sugar. Add approx 600g water.
Bring to the boil and turn down to a simmer, and with the lid on cook for 25 minutes or until everything is cooked.
Add more water if it is too thick.
Check the seasoning and stir in the parsley just before serving.