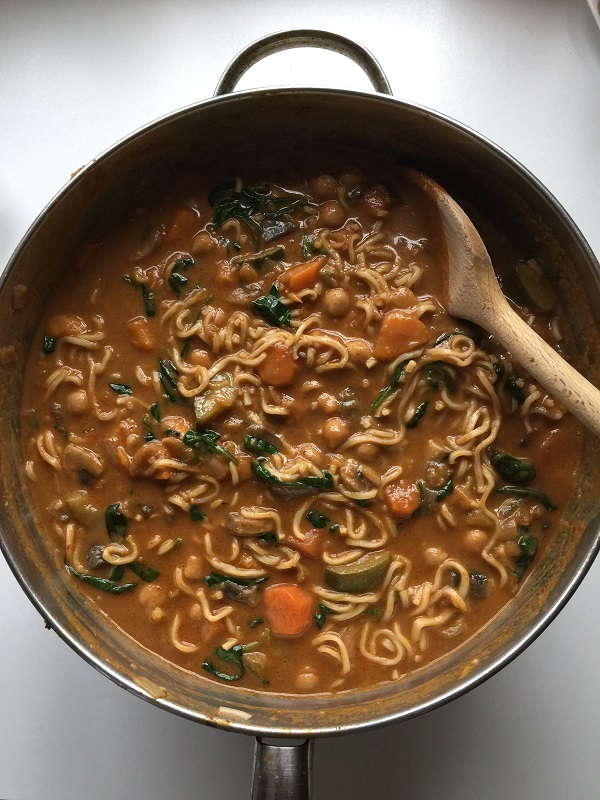 12 May

Red thai noodle, chickpea and coconut curry

A great supper dish with a little cheat – using the Thai Gold red curry paste. Lots of vegetables including aubergine which absorbs the flavours of the curry beautifully. Chickpeas add texture and protein. Spelt noodles stirred in at the end give it some body. Serve with more noodles or some rice.

1 x 400g tin chickpeas
1 x 400ml Thai gold coconut milk
1/2 pack Biona spelt noodles
1 aubergine, chopped into small dice
2 small sweet potatoes, peeled and cut into small dice
2 carrots, peeled and sliced
1 onion, finely chopped
1 courgette, chopped into small dice
6 mushrooms, finely sliced
1/2 jar or 2 tbsp Thai gold red curry paste
2 garlic cloves, crushed
2 tsp salt
2 handfuls of baby spinach
2 tbsp Coconut oil to fry

Heat the oil in a large saucepan and add all the veg except the spinach. Bring to a high heat stirring all the time to create some steam then turn down to a simmer and put lid on for 10 minutes.
Add the garlic and curry paste and cook for a minute then add the chickpeas plus the water in the tin, the coconut milk and a little more water if it isn't wet enough. The liquid needs to just cover the veg. Add the salt.
Bring to the boil and simmer with lid on for 25 minutes until everything is soft.
Boil some water in a saucepan and when boiling add 1/2 the noodles from the packet breaking them up as they enter the water and cook for 5 minutes. Drain and add to the curry with the spinach.

Check the seasoning and serve with more noodles or rice or a green salad. My family love this served with mash potato!