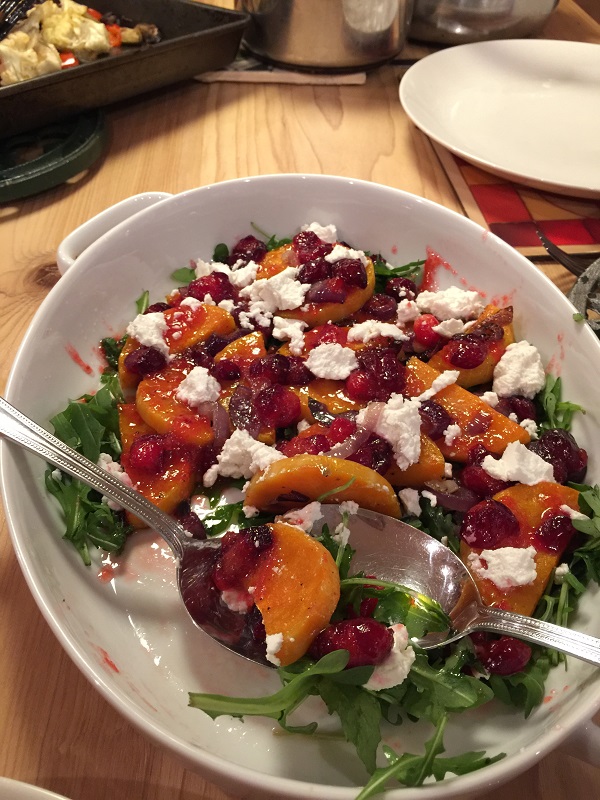 15 Dec

Roast Butternut squash and red onion with poached cranberries, candied pecans and goats cheese on a bed of rocket

This colourful dish works well as a side dish especially at Christmas. Leave out the goats cheese and use maple syrup instead of honey for a vegan version.
1 butternut squash
1 medium red onion
100g fresh cranberries
4 tbsp olive oil
Log of soft goats cheese, roughly chopped
12 pecans halves, halved and 1 tbsp maple syrup
2 tbsp maple syrup or honey
Grinder salt and pepper to season

1 bag of washed rocket leaves

Preheat oven to gas 6 or 200C

Slice off the long neck of the squash and peel. Slice into ½ inch slices and cut each one in half. Place in a large bowl.
Peel and slice the red onion in half and slice into thin slices and break up.
Add to the squash and poor over 2 tbsp olive oil and season with a few grinds of salt and black pepper and mix to coat.
Spread out on a baking tray in one layer and roast for 20 minutes until slightly browned/caramelised.

In a small frying pan, add 1 tbsp maple syrup and heat, then put in the pecans and fry till sizzling then remove to a plate to cool and harden.
Then add to the same pan the other 2 tbsp oil and 2 tbsp maple syrup or honey and add rinsed cranberries.
Fry until the cranberries sizzle and burst.

Arrange the rocket over the base of a shallow serving dish, spoon the squash and onion over the rocket, spoon over the cranberries and pour over any juices.
Dot over the goats cheese and scatter the caramelised pecans.
Serve.