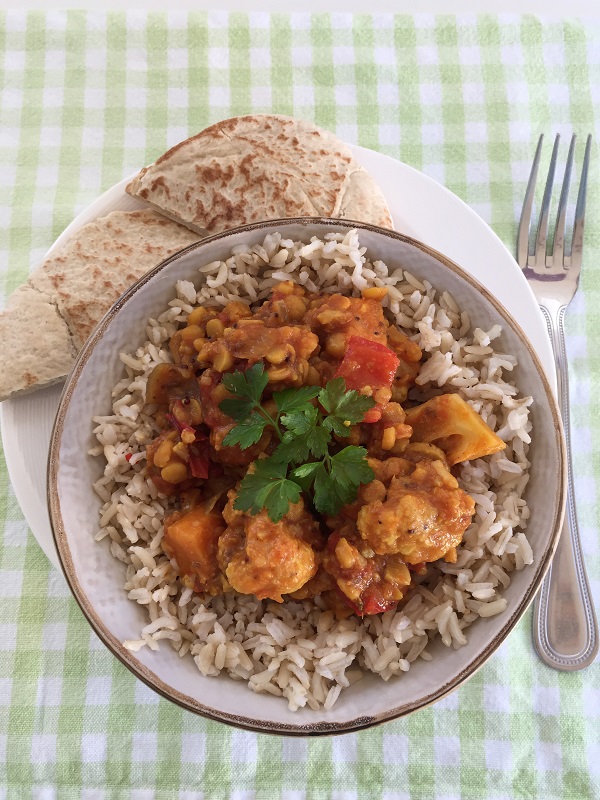 23 Jan

Roast cauliflower and vegetables in a split pea dahl (vegan)

Great weekend supper dish, you'll get protein and fibre from the split peas, plenty of fibre and anitoxidants in the vegetables and lovely curry flavours. Serve with brown basmati rice which gives you soluble fibre, B vitamins and magnesium.

1 cup split peas plus 4 cups water

Roast veg
1 cauliflower, split into small florets
2 carrots, chopped into bite size pieces
1 small sweet potato, scrubbed or peeled and cut into bite size pieces
1 red pepper, chopped as above
1 red onion, chopped as above
2 tbsp coconut oil
1 tsp cumin seeds
1 tsp mustard seeds
Salt and black pepper

Dahl
100g finely sliced button mushrooms
1 yellow onion, finely chopped
1 tin chopped tomatoes, plus 1 tin water
2 large cloves garlic, crushed
1 tsp cumin seed
1 tsp mustard seed
2 tsp ground cumin
2 tsp ground coriander
1 tsp turmeric
1/2 tsp chilli flakes
2 tsp salt
2 tbsp coconut oil
120g bag baby spinach, chopped

Cook the split peas : bring to the  boil and simmer with lid on until soft, probably about 1 hour.
Place all the veg on a large baking tray, sprinkle on the seeds and grind over some salt and pepper. Toss in the oil and bake until soft and slightly singed. Turn over once during cooking.
In a large saucepan, heat the oil, add the seeds with the mushrooms and onion and cook on a high heat stirring until very aromatic and browning. Add the garlic, salt and other spices and stir cooking on a lower heat for a minute.
Add the tomatoes and water and simmer for 10 minutes, lid off.
When  the split peas are done, drain if there is any water left and keep this as you may need to thin the mixture later on. Add split peas to the tomato mix and simmer for 10 minutes. Check the seasoning and add the cooked roast vegetables.
Stir in the chopped spinach and let it wilt. Serve with brown rice and pita bread.