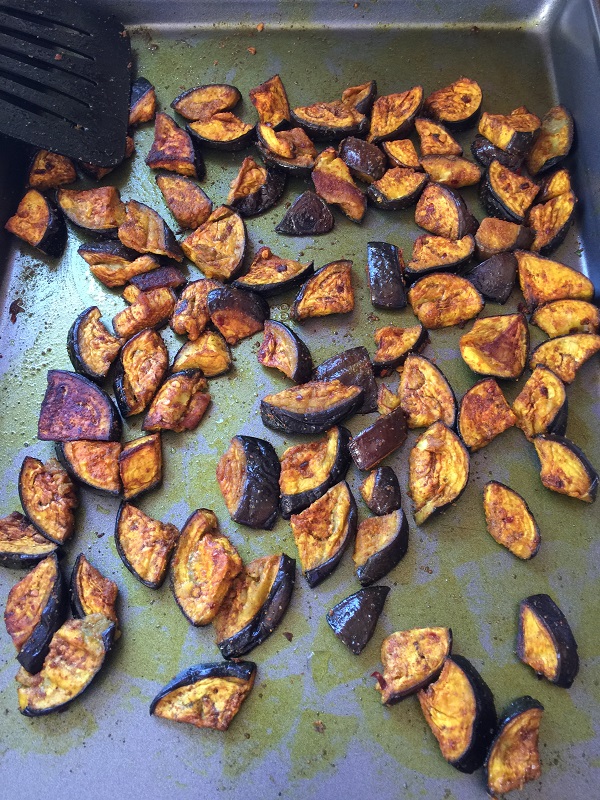 13 Aug

Roast spiced Aubergine

One of my favourite accompaniments to a curry. The key to cooking aubergine is to make sure it is tender – I know so many people who hate it because they have not had it cooked properly and it can taste like rubber! So by coating it in spices as I have done here and roasting till golden brown it should be delicious and melting in your mouth. Aubergine soaks up flavours well. These spices can also be used to coat cauliflower florets for spiced roast cauliflower.

2 medium aubergines
1 tsp cumin powder
1/2 tsp turmeric powder
1 tsp coriander powder
1/2 tsp chilli powder
1/2 to 1 tsp  salt
3 tbsp olive oil

Preheat oven to gas 5 or 190C
Slice the aubergine in half lengthways, then slice each half in half again and chop into bite size pieces.

Place all the spices and salt into a large bowl and mix together. Toss the aubergine into the spices and drizzle over the oil and mix till all the pieces are coated.
Leave for 15 to 30 minutes to marinate, stir and toss again and then spread out on a baking tray in one layer including any juice.
Bake in the centre of the oven for approx 30 minutes turning over once or twice and when they are cooked the should be golden brown and tender when you stick the tip of a knife into a piece.

Serve with yoghurt cucumber raita – recipes in (accompaniements)and dhal (stews and curries) with flatbreads (breads and scones).