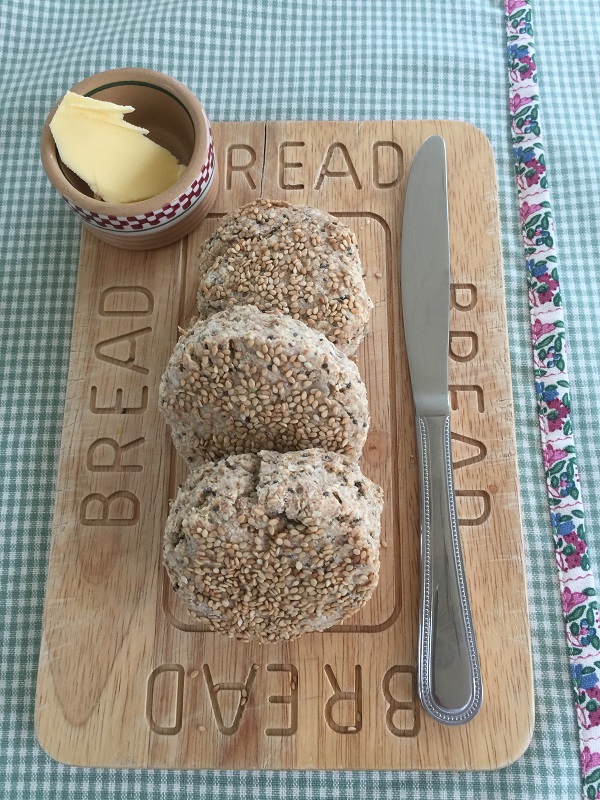 06 Feb

Seeded spelt and oat scones (vegan)

Easy and quick to make, delicious for breakfast or a snack or lunch with soup. The spelt flour is easier to tolerate than ordinary wheat – it contains more protein and less gluten. The seeds and ground almonds add omega 3 oils, soluble fibre and protein and the oats are a fantastic source of magnesium and soluble fibre.

Makes 6 scones (double the recipe for more)

100g wholegrain spelt flour
50g porridge oats
50g ground almonds
2 tbsp shelled hemp seeds
1 tbsp chia seeds
1 tbsp sunflower seeds
1 tbsp pumpkin seeds
2 tbsp sesame seeds for top
1/2 tsp salt
2 tbsp olive oil
100g water

Preheat oven to gas 6 or 200C
Lightly sprinkle some flour over a baking tray.
Place all the dry ingredients into a bowl and mix well.
Make a well in the centre,  add add the oil and water and mix till all the ingredients come together.
Shape into a round on a lightly floured surface, press down gently to about 2 inches thick and stamp out rounds with a 2 inch cutter.
Put the sesame seeds into a bowl, pat a little water onto each scone and dip the top of the scone into the seeds.
Place on the baking tray and bake in the centre of the oven for 20 to 25 minutes until slightly risen and lightly browned. When you tap the bottom of the scones they should sound hollow.

Cool on a wire rack. Can be stored in an airtight container for a few days.