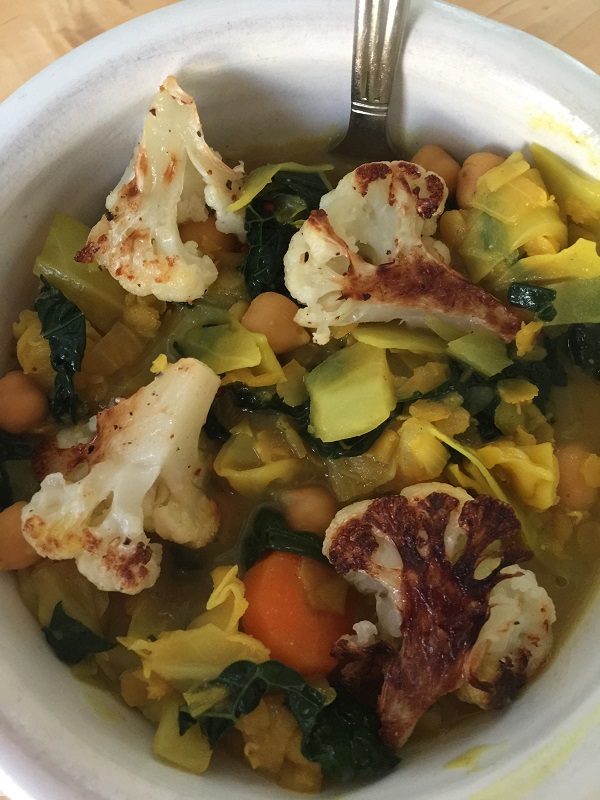 22 Oct

Simple red lentil and chickpea stew with kale and cauliflower

A really simple basic stew with some curry spices – add whatever vegetables you have – it contains lots of protein from the chickpeas and red lentils which are also good for adding the mineral silica which helps to strengthen skin hair and nails. Lots of fibre in this dish and the kale and cauliflower belong to the Brassica family and are thought to have anti cancer properties. Serve with brown rice or quinoa and a green salad.

1 small cauliflower, broken into florets
1 x 400g tin chickpeas
150g split or whole red lentils
1 onion, finely chopped
3 carrots, scrubbed or peeled and chopped
1/2 pointy or sweetheart cabbage, shredded
5 leaves  of Cavolo Nero kale or curly kale , stripped from central spine and finely shredded
1 tsp mustard seeds
1 tsp dried turmeric
2 tsp cumin powder
2 tsp vegetable bouillon
2 cloves garlic, crushed
1 tsp Himalayan salt
olive oil or coconut oil to cook

Heat oven gas 6 or 200C.
Rinse the cauliflower and place in a single layer on a baking tray and sprinkle with salt and pepper and drizzle with oil and using your hands turn over in the oil and seasoning to coat.
Place in the centre of the oven for 20 minutes or until nicely browned.
In a large saucepan heat a couple of tbsp oil and add the onions, cooking on a medium heat till they turn translucent then add the carrots and cook for a couple minutes, then  spices and bouillon. Add in the cabbage and let it wilt into the rest of the ingredients then add the garlic and stir to cook make sure it doesn't brown.
Add in the lentils and cover with hot water and bring back to the boil. Add the chickpeas and the water from the tin. Once it is boiling turn down to a simmer and put on the lid and cook for 20 minutes.
Add the kale and let it cook into the stew for a few minutes and add the cauliflower on the side or stir in. Check the seasoning and serve.