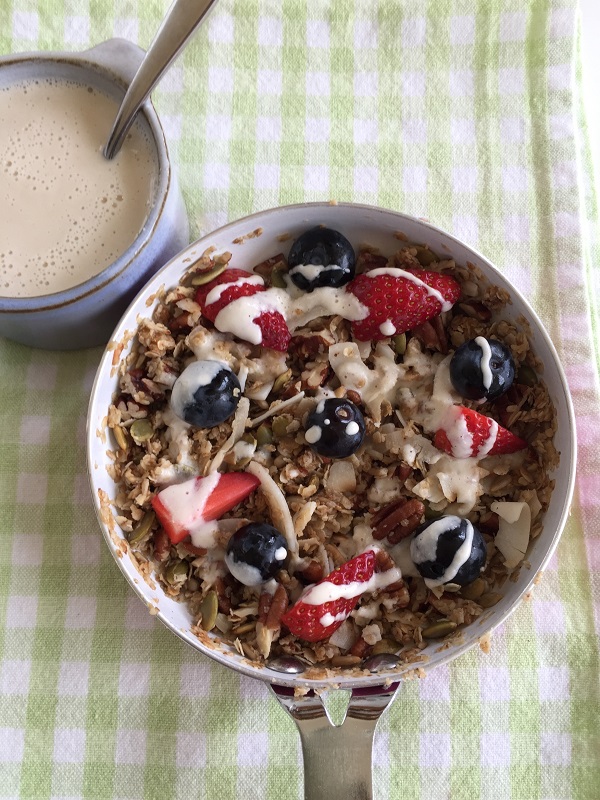 11 Apr

Skillet pecan granola with cashew cream (vegan)

This makes just enough granola for 1 person – just double the recipe for more. I called it skillet (which is a frying pan in America) granola – it sounds better than frying pan granola! Granola makes a great breakfast full of soluble fibre and protein from the seeds and nuts and wonderful cholesterol busting oats. I used coconut oil to bind and a little maple syrup to sweeten. Cashew cream is a delicious easy to make dairy free alternative to yoghurt or cream – more protein and fibre to add to your breakfast! Add fresh fruit of your choice.

Granola

You'll need a small frying pan.
Add to the pan:-

3 tbsp porridge oats regular or jumbo
1 tbsp pumpkin seeds
1 tbsp sunflower seeds
5 pecans chopped
1 tbsp coconut flakes

Heat gradually toasting in the pan stirring frequently for about 5 minutes.
To this add 1 tbsp melted coconut oil and 2 tsp maple syrup, it should sizzle at this point so stir around to coat and cook for a minute or two more. Allow to cool.

For the cashew cream

100g raw cashews
1 tbsp maple syrup
1 1/8th tsp sea or himalayan salt
200 ml water

Soak cashews overnight in water or for a quick way pour very hot water over them and leave for 15 minutes.
Drain and place cashews in a blender – (if you have a powerful blender you will get a very smooth cream but a food processor will do it will just be a bit grainy).
Add maple syrup and salt and water and blitz for between 10 and 30 seconds until smooth.
Store in a glass jar with a lid in the fridge for up to a week.