13 Jan

Sourdough bread in a loaf tin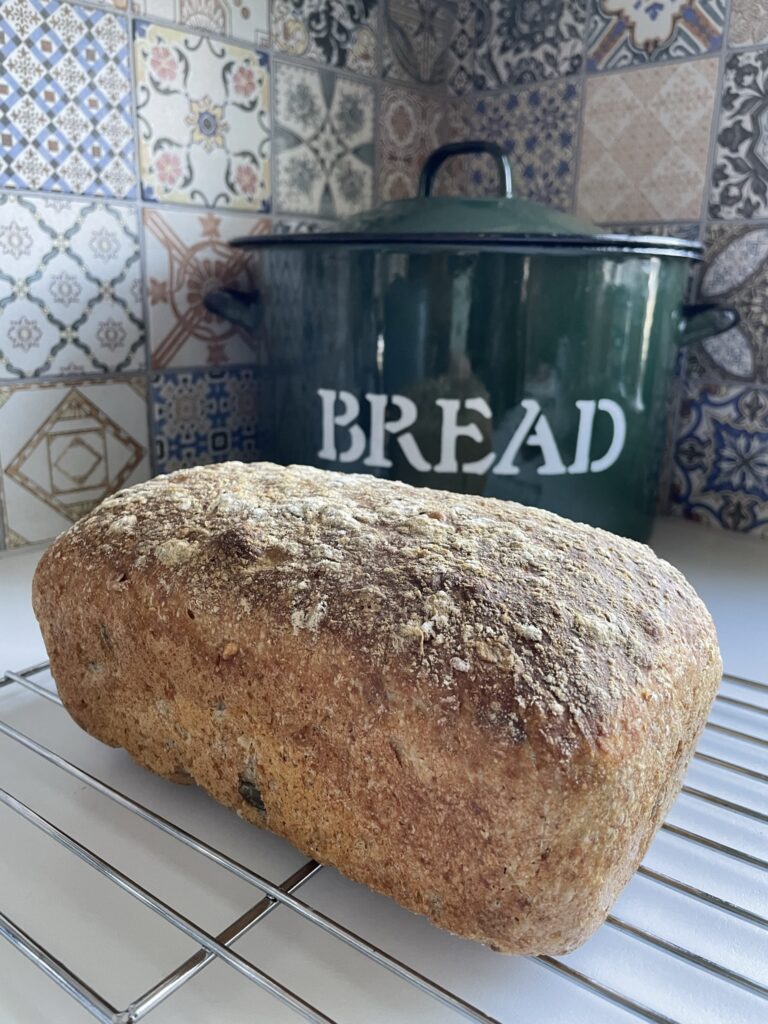 This is the same recipe that I have been making for years, except I use a large 2lb loaf tin instead of a casserole dish. Its handier for the toaster and making sandwiches.
200g strong white flour
200g wholemeal flour
100g dark rye flour
100g whole mixed seeds – i use 30g each of sunflower, pumpkin and flax and 10g chia seeds
100g starter (for how to make a starter see my previous post of the round sourdough bread)
325ml water
1 tsp salt
Mix the flours together in a large bowl with the salt. Add the starter and the water and mix together it will look rough, if needed add a splash of water if its too dry.
Leave covered with a damp cloth for 1 hour.
Pick up the sides of the dough and fold it into the centre in the bowl about 10 times moving the bowl as you go, this increases the elasticity. Do this hourly for 3 more hours. You can see in the previous sourdough post how to do this too.
Then oil a large 2lb loaf tin and shape the dough use some rice flour to stop it sticking and lightly flour the sides of the tin.
Place the dough into the tin and then use a large plastic bag to place the tin into and roughly tie the bag and leave on the counter for the bread to rise. I usually start to make my bread in the late afternoon around 4pm and leave it on my counter for a couple hours and then when I go to bed put it in the fridge overnight. It takes a few hours for it to rise so don't worry if not much is happening it will continue to rise in the fridge, don't have your fridge too cold though.
In the morning it should have risen to the top of the tin.
Remove the plastic bag and place the tin in a preheated oven gas mark 6 or 200C in the lower part for one hour. The bread should be browned and risen slightly.
Remove from the oven and give it 5 minutes to shrink back from the sides of the tin, remove and place on a cooling rack. I use a non stick tin and it removes easily, but you could also line the tin if needed.
Once cold you can slice it , I sometimes slice it up and freeze half in slices so it can be popped easily into the toaster.
Enjoy!
Note: Detailed instructions to make sourdough are on my previous post so read that before making this one especially if you are new to sourdough.