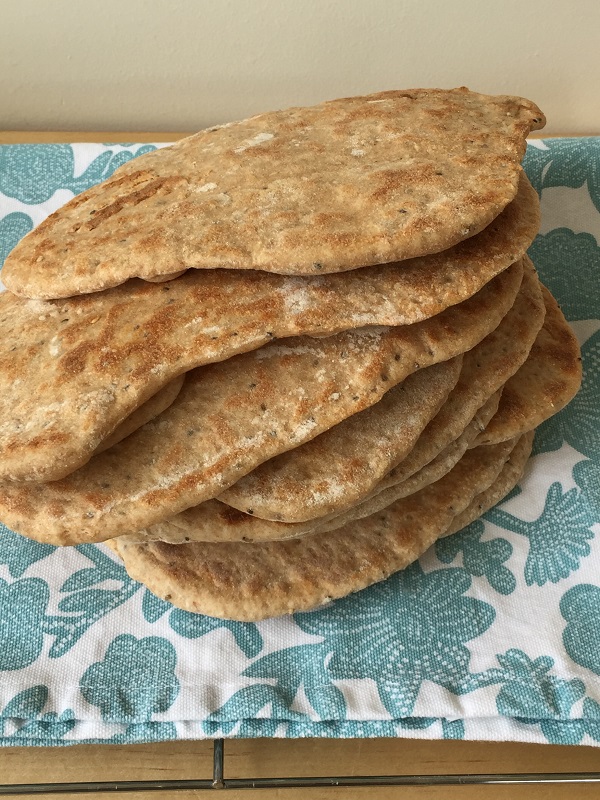 23 Apr

Spelt, seed and yoghurt flatbreads

These flatbreads are simplicity itself and very tasty. The texture is chewy and light and they double up as pitas if you slice carefully to separate the bread. I've used a mix of wholegrain and white spelt flour and added a few sesame and chia seeds. Delicious with dips and salads or as a bread to accompany soup or a curry. The inspiration for these came from a recipe by Anna Jones in the Guardian Cook magazine.

200g wholegrain spelt flour
200g white spelt flour
1 tbsp baking powder
1 tbsp sesame seeds
1 tbsp chia seeds
350ml yoghurt
1 tsp sea or himalayan salt

Place the flour, baking powder, seeds and salt into the bowl of your food processor and add the yoghurt and process for a minute until it comes together in a ball. Or place dry ingredients in a large mixing bowl and gradually mix in the yoghurt until it comes together.
Place dough on a floured surface and knead for a few seconds.
Divide dough up into 12 pieces and roll each one out to a thin round approx size of your hand.
Heat a griddle pan or a heavy based frying pan until hot and place 2 flatbreads side by side.
They will cook quite quickly developing bubbles on the surface. After a couple of minutes flip over and cook the other side they might balloon up but will go down again.
Place cooked breads on a clean tea towel on a cooling rack and loosely cover with the towel as you cook them. This keeps them soft.
Can be reheated in a toaster or oven and freeze well.