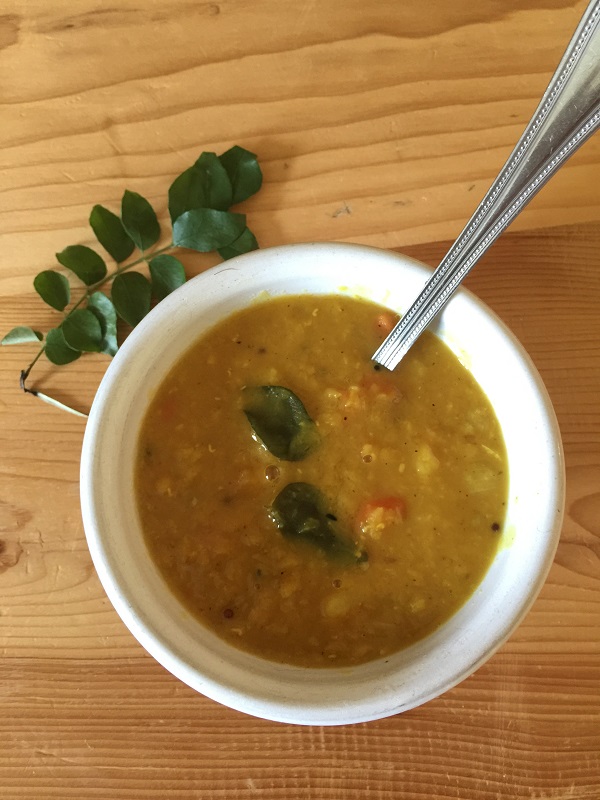 16 Feb

Spiced Red lentil and vegetable soup with curry leaves

This is a great soup to make when the weather outside is blowing a gale, full of tasty warming flavours. Red lentils provide protein and soluble fibre and contain silica which is a mineral good for skin, hair and bones.

The curry leaves impart a slightly citrus but rounded flavour, they don't taste of curry but really enhance curry dishes. They are available fresh from Indian grocers or dried in health food shops.

200g red lentils
600g water or vegetable stock
1 medium onion, finely chopped
2 carrots, finely diced
1 parsnip, finely diced
1 tsp kashmiri mild chilli powder available in indian grocers or use 1/2 tsp regular mild chilli powder
1 tsp dried turmeric
1 heaped tsp Punchipooran seeds available from indian grocers or use 1 tsp cumin seed and 1 tsp black mustard seed
2 good size cloves garlic, peeled and crushed
1 inch piece ginger, finely grated
10 curry leaves dried or fresh
1 1/2  tsp salt
3 tbsp Rapeseed oil

Heat the oil in a medium saucepan with a lid and add the chopped onion and the punchipooran OR cumin and mustard seeds. Then add the curry leaves and cook on a medium heat for about 5 minutes stirring often.
Add the carrots and parsnips, then the garlic and ginger and then the chilli and turmeric.
Continue cooking for another few minutes then add the water or the stock and the red lentils and salt.
Bring to the boil, turn down to a simmer and cook for 20 minutes or until the lentils are cooked.
Add more water to get the consistency you require. Taste and add more salt if necessary.
If you use fresh leaves you don't need to remove but if using dried you might like to remove them as they are a little tougher in texture but it isn't essential.