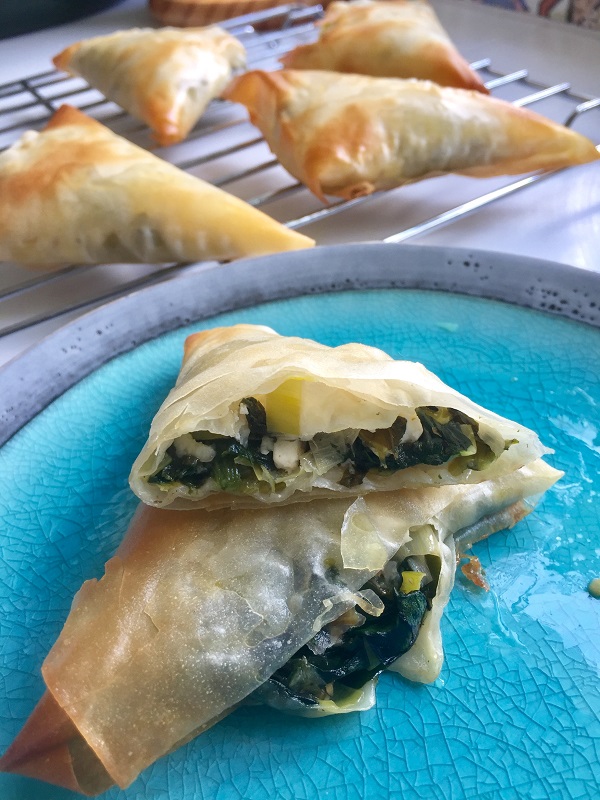 24 Feb

spinach, leek and feta cheese filo pastry triangles

This is another version of the samosas in the previous post. These ingredients go so well together, serve with a salad.

1 pack filo pastry

2 leeks, thinly sliced
1 bag baby spinach
1 x 200g pack feta cheese, chopped into small dice
2 cloves garlic, crushed
1 tsp dried oregano
1/2 tsp thyme
1/4 tsp nutmeg
1 tsp salt
olive oil for frying

Follow the instructions on the pack of filo pastry to thaw.
In a medium frying pan fry the leeks for 5 minutes until they are softened then add the herbs, salt, nutmeg and garlic and stir in the spinach, let it wilt. Stir in the cheese.

Unwrap the filo pastry onto a chopping board. With a knife, make a line down the middle of the length of the pastry. Using some kitchen scissors snip through the layers. Cover one half side with clingfilm to stop it drying out and with the other half side peel apart the layers and lay each one out on your counter top lengthwise.
Place some light rapeseed oil into a small bowl and with a pastry brush, brush on the oil in a thin layer the length of the pastry strips.
At the top of each strip place 2 tbsp of mixture and fold over into a triangle and then fold as a triangle first one way then the other all the way down the strip till you get to the bottom. Place on a greased baking sheet. Repeat with the other half of pastry strips. Brush some oil over the triangle parcels.
Bake in the oven on gas 5 or 190C in the middle of the oven for 15 /20 minutes or until nicely browned and crisp looking.

Serve with a green salad and maybe some tomato salad.