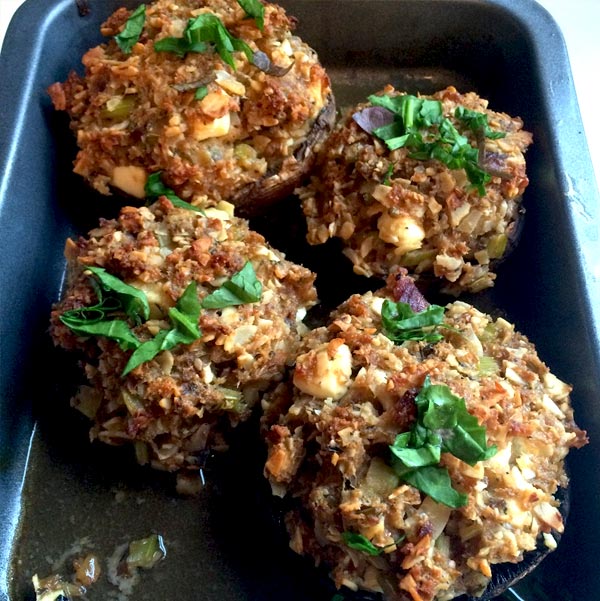 04 Nov

Stuffed Portabello Mushrooms with Feta

4 large portabello mushrooms, lightly washed and dried on kitchen paper, stalks removed
1 slice good wholemeal bread made into breadcrumbs
50g flaked almonds, blitzed in a food processor, but retain some texture
1 small red onion, finely chopped
1 stick celery, very finely chopped
1 large clove garlic, crushed
1/2 tsp dried thyme leaves
1/2 tsp dried oregano leaves
1 large egg, beaten
50g chopped feta cheese
2 tbsp olive oil
salt and pepper

Heat oven gas 6 or 200C
Fry the celery and onion in a tbsp olive oil for a few minutes and stir in the garlic and herbs, then remove from the heat.
Put the breadcrumbs and almonds into a bowl and add the onion mix.
Stir in the egg and the feta.
Season with freshly ground black pepper and 1/2 tsp himalayan salt. Leave aside.
Put a tbsp oil into a small tin or dish and wipe the oil all over the underside of the mushrooms and place into the dish or tin.
Pile up the stuffing on top of each mushroom and firm slightly.

Bake in the centre of the oven for 25 minutes or until nicely browned and when serving spoon over the juices.