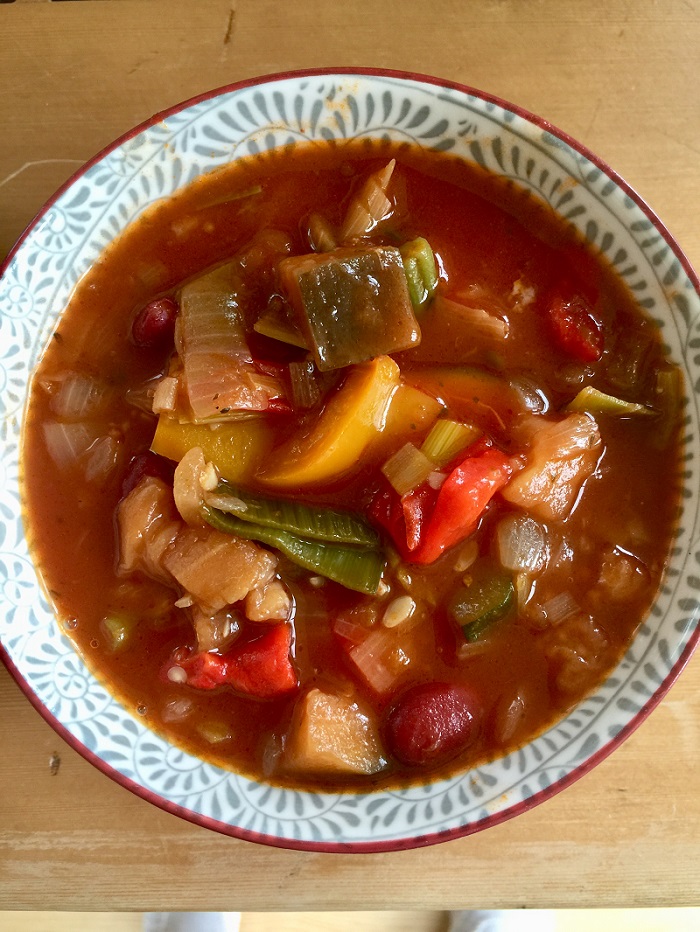 20 Aug

Summer Ratatouille with red beans (Vegan)

The definition of Ratatouille is a light vegetable stew made with Mediterranean vegetables usually peppers, aubergines and courgettes but I've also added some leeks and green beans. It is full of antioxidants from the very colourful vegetables and the addition of the red beans adds some protein. I like to serve it with brown rice which adds wonderful B vitamins and fibre or wholegrain pasta and a green salad, some coleslaw (see recipe under salads) basil drizzle (see recipe under accompaniments) and if you eat dairy some grated cheese or crumbled feta or blue cheese or for a vegan option some lightly dressed chopped avocado and /or a dollop of my delicious cashew garlic aioli (see recipe under dips).

1 x 400 g tin red kidney beans, rinsed and drained
2 red onions, chopped
1 large aubergine, diced into bite size pieces
1 red and 1 orange pepper, diced into bite size pieces
2 courgettes, sliced
Handful of green beans topped and tailed and chopped into bite size pieces
2 small leeks, trimmed and chopped
4 cloves garlic, crushed
1 tsp dried oregano
1/2 tsp dried thyme
2 bay leaves
1 500g jar or carton of passata
2 tsp brown sugar to counteract the acidity of the tomatoes
2 tsp salt
1 tsp vegetable bouillon
black pepper to taste
Olive oil for frying

Heat 4 tbsp olive oil in a large saucepan with a lid. Fry the onions first then add in the aubergine which will soak up the oil but as they cook press down on them with the spatula and they release it again, or add a little more oil.
Add in the peppers and courgette, leeks and green beans and fry for a few minutes then add the garlic, bouillon, sugar, salt and herbs.
Fry for a minute then add the tomato passata plus some water so the vegetables are covered. Tip in the red kidney beans.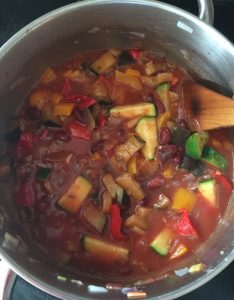 Stir and put the lid on and bring to the boil, then turn down to a simmer and cook for 30 minutes or until everything is soft.
Check the seasoning and serve as suggestions above. Also makes a nice side dish with nut roast.