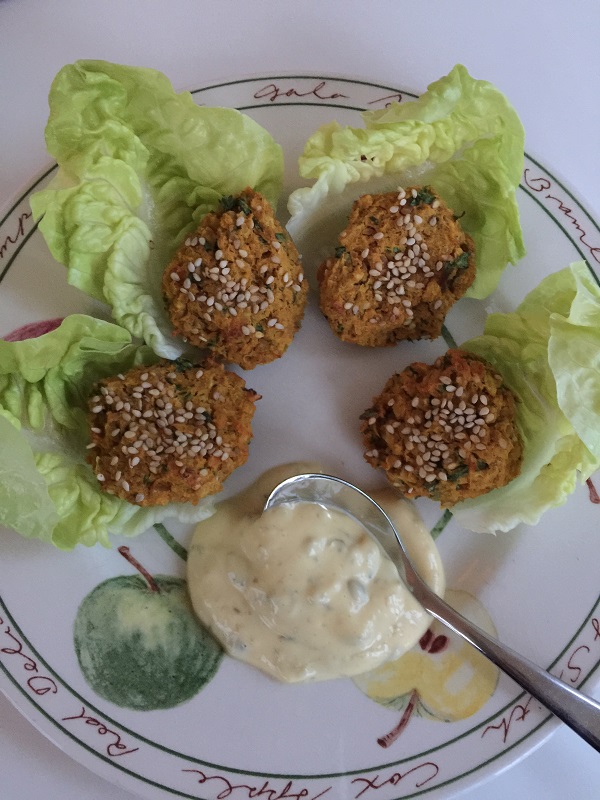 21 Nov

Sweet potato falafels with vegan caper mayonnaise

delicious as a starter or part of a lunch, these keep well for a few days in the fridge and can be frozen.

1 400g tin chickpeas, drained

1 small/medium sweet potato, peeled, sliced and steamed till just tender

3 tbsp gram flour

1 clove garlic, crushed

2 tbsp freshly chopped coriander

15 fresh mint leaves, chopped

zest of 1 lemon, chopped, and juice of 1/2 lemon

1 tsp ground turmeric

1 tsp ground cumin

1/4 tsp chilli flakes

1 tsp salt

1 tbsp sesame seeds

head of baby gem lettuce, split the leaves,wash and dried

Heat oven to gas 6 or 200C.

Put chickpeas, garlic, spices, herbs, salt, lemon juice and zest into the food processor and pulse a few times to mix but retain some texture.

In a bowl mash the sweet potato with the gram flour with a fork and then stir in the chickpea mix from the food processor.

Spoon small amounts into your hands, shape and place on kitchen paper on a baking tray, sprinkle with sesame seeds.

Bake for 30 minutes in middle of the oven and then leave to cool a little.

Serve with the lettuce and the caper mayonnaise on the side.

Vegan Mayonnaise with capers

100ml olive or rapeseed oil

50g soya milk

1 tbsp dijon mustard

1 tbsp honey or maple syrup if you are strict vegan

1 tbsp cider vinegar

1/2 tsp salt

2 tbsp capers, roughly chopped

Wizz all the ingredients except capers in a jug with a handheld blender or in a high speed blender till they are thick and homogenised. Spoon into a bowl and stir in the capers. Store in a glass lidded jar in the fridge to have with salads or as a dip.