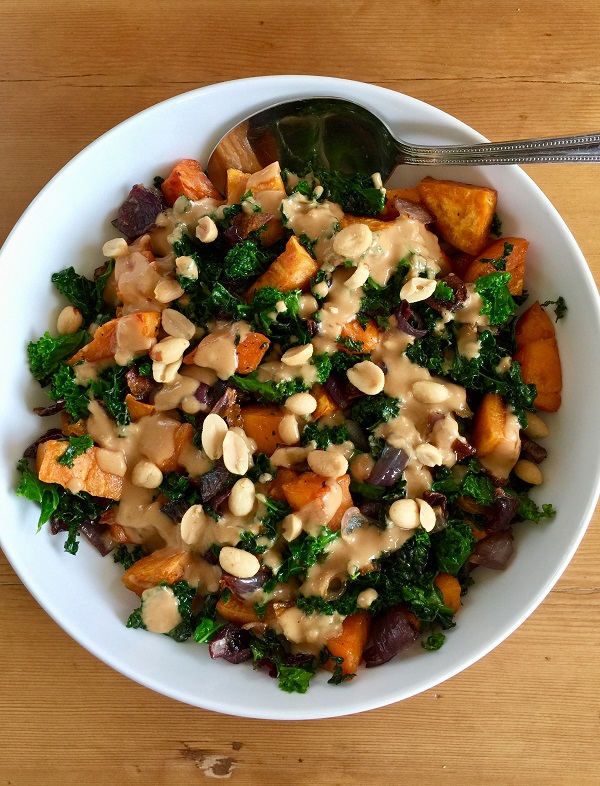 14 Nov

Sweet Potato and Kale Winter Salad with Peanut and Lime Dressing

As winter approaches it often seems too cold to eat a normal salad so this ticks all the boxes. The peanuts add protein and the roast veg is delicious combined with the kale, it is nutritious and delicious, providing antioxidants to boost the immune system and wonderful folic acid for healthy blood cells from the kale. Serves approx 4.

Vegetables
1 large sweet potato, peeled and diced into bite size pieces
2 red onions, peeled and cut into bite size pieces
3 large handfuls of kale, finely shredded
4 tbsp olive oil
2 tbsp maple syrup
Salt and black pepper

Dressing

Juice of half a lime
3 tbsp smooth peanut butter
1 small clove garlic, crushed
1 tbsp very finely grated and chopped ginger, squeeze in your hand to release juice
2 tsp shoyu soya sauce
1 tsp maple syrup
Water to thin

Place the sweet potato and onion into a baking tray and pour over 3 tbsp olive oil and the maple syrup and grind over some salt and black pepper. Bake on gas 6 or 200C for 30 to 40 minutes until nicely browned and slightly caramelised. Set aside.
Pour a tbsp olive oil into a large frying pan, heat and add the kale, grind over a little salt and black pepper and stir fry for a few minutes until tender but holding its colour. Set aside.
Make the dressing: place all the ingredients into a small bowl and whisk together adding a little water to thin it to the consistency of single cream.
Mix the kale into the sweet potato and onion, pile into a dish and drizzle over the sauce and top with some salted peanuts.
Serve warm with extra dressing on the side.