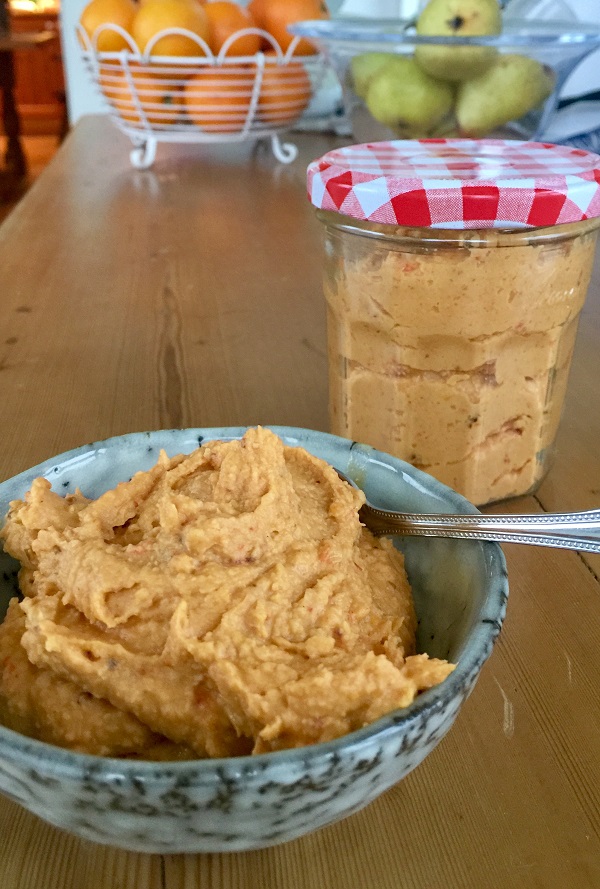 17 Jan

Sweet potato and roast red pepper hummus with cumin

Hummus lends itself to roast vegetables and this combination really works. The chickpeas provide protein, the roast pepper and sweet potato give us antioxidants and fibre. Serve with pita bread and salad or serve alongside other roast veggies.

1 small /medium sweet potato, peeled and chopped into small dice
1 small/medium red pepper, chop into small dice
1 x 400g tin unsalted chickpeas, drained
1 tbsp lemon juice
1 tbsp light tahini
1 tbsp sweet chilli sauce
1 tbsp extra virgin olive oil
1 tsp cumin powder
1 tsp salt
1 tbsp olive oil
1 tbsp freshly chopped parsley or coriander

Preheat oven gas 6 200C
Place the sweet potato and red pepper pieces onto a small baking tray and drizzle over 1 tbsp olive oil. Sprinkle on a little salt and black pepper, toss in the oil and roast for 20 minutes until just turning brown. allow to cool a little. K
Place the rest of the ingredients into the bowl of your food processor, then add the cooled roast pepper and sweet potato, reserving a couple of tablespoons for topping. Process until smooth.

Spread out on a plate or shallow dish, top with the reserved roast sweet potato and pepper, drizzle over a little extra virgin olive oil and sprinkle over a little freshly chopped parsley or coriander and serve with crackers or toasted pita bread.
Store in a glass jar with a lid in the fridge for up to a week.