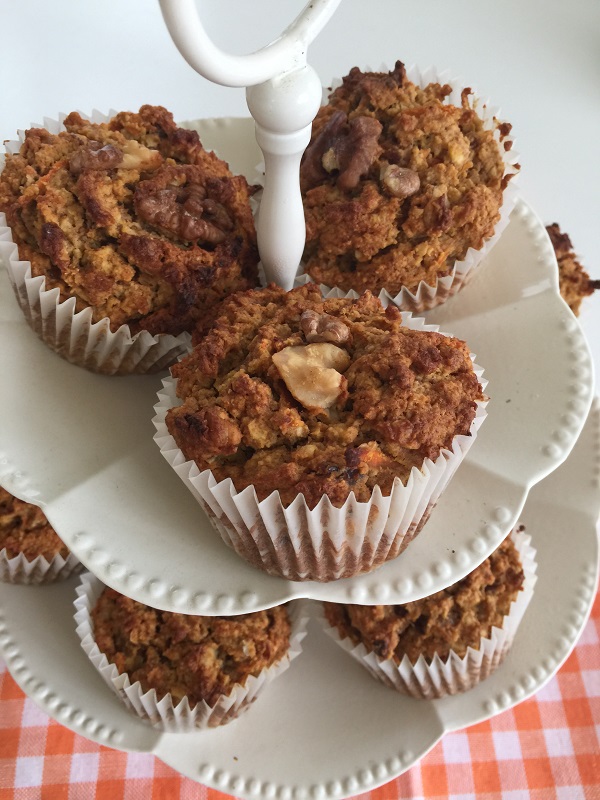 12 Feb

Sweet potato, walnut and carrot cake muffins with orange zest (dairy free)

These deliciously moist muffins are perfect for breakfast or elevenses – they contain lots of beta carotene from the carrots and sweet potato, protein from the eggs, ground almonds and walnuts, lots of soluble fibre especially from the oats.  The baked sweet potato helps to naturally sweeten alongside the dates. To make them vegan, make a 'chia egg' by replacing the eggs with 2 tbsp chia seeds soaked for 15 minutes in 6 tbsp water.

Dry Ingredients

100g wholegrain spelt flour
100g porridge oats
100g ground almonds
50g walnuts, roughly chopped
2 tsp baking powder
1 tsp ground cinnamon
1 tsp ground dried ginger
1/4 tsp salt

Wet ingredients

200g grated carrot
1 small to medium sweet potato, scrubbed skin left on approx 160g in weight
2 large eggs
100g dates, soaked for 10 minutes in very hot water
100g coconut oil, melted or olive oil (not extra virgin)
2 tbsp maple syrup
Zest of 1 orange
12 walnut halves for top

First preheat oven to gas mark 5 or 190C.
Line a 12 hole muffin tin with paper muffin cases.

Lightly prick the sweet potato a few times with a sharp knife and place on a small oven proof tray in the oven for 35 minutes or until soft and slightly oozing. Once cool enough to handle, peel and scoop out the flesh. Cool a little.

Mix the dry ingredients together in a large bowl.

Drain the dates and place in your food processor with the eggs (or chia egg), maple syrup, sweet potato flesh and process till smooth.

Add the carrot and orange zest to the dry ingredients and mix in. Make a well in the centre and pour in the oil and date mix from the food processor. Mix well.

Spoon into the muffin cases and top with a walnut half.

Bake in the centre of the oven for 30 minutes or until lightly browned, they wont rise much as the ingredients are heavy.
When cool enough to handle – lift our of the tin and cool on a wire rack.

These keep well in an airtight container for 5 days or freeze some and have some to hand in the container.