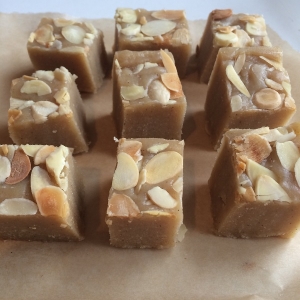 22 Nov

Tahini or cashew nut or almond butter Fudge

Tahini, which is sesame seed paste is mostly used in hummus and eastern Mediterranean savoury dips but here it is mixed with honey, coconut and vanilla to give a delicious melt on your tongue fudge  sweet treat without all the sugar. Also tahini is very high in the mineral calcium so for me a piece of this everyday satisfies any sweet cravings and gives me a calcium boost for my bones at the same time! If you don't like Tahini you can use the same recipe and replace with cashew nut butter or almond butter.

150g of light tahini or cashew nut butter or almond butter
2 tbsp good honey – raw if possible or maple syrup or brown rice syrup
100g desiccated coconut
1 tsp vanilla bean paste or extract
1/4th tsp himalayan salt
1 tbsp toasted flaked almonds for topping

Put the coconut and salt into your food processor and process for around 4 minutes or longer until it starts to come together in a paste and when you pinch it between your fingers it stays.
Add the tahini or nut butter, honey or maple syrup and vanilla and process again for another minute or until it all comes together.

Line a smallish square or rectangular lunch box with clingfilm or kitchen paper parchment, hanging over the sides for easy removal or use a small silicon loaf 'tin'.
Spoon in the mix, press down and level.
Press on the almonds and put into the fridge for a few hours or freezer for a couple of hours.
Once firm, lift out and remove the cling film or paper and cut into small bite size squares. Store in the lunch box with a lid in the fridge.

Note: It doesn't need to stay in the freezer as the coconut paste hardens and stays hard enough to serve from the fridge.