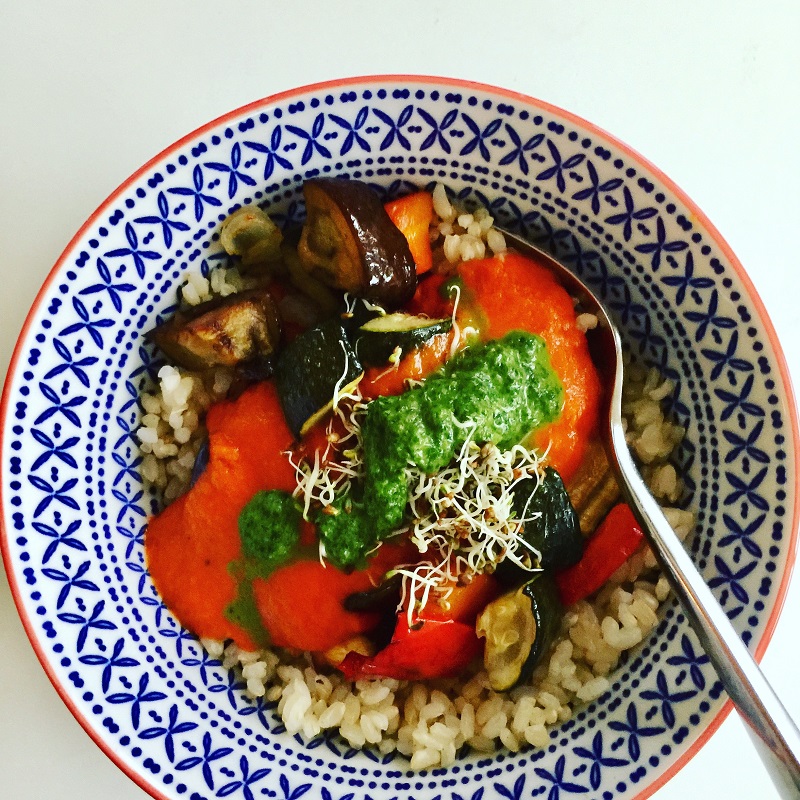 07 Sep

Tomato and red pepper sauce and Basil oil (Vegan)

This sauce is quick to make and delicious with roast vegetables or as a dip for crudite. Brimming full of antioxidants from the peppers and the tomatoes. The teaspoon of sugar is important to stop the acidic taste of the tomatoes coming through. I make a batch and it lasts in the fridge for a few days in a jar with a lid.

1 x 340g Jar Bunlaun tomato and vegetable sauce or 400g passata (from Dunnes)
1 x 340g Jar roast red peppers in brine (I use Frontier foods) roughly chopped black charred bits removed
1 red onion, chopped
2 cloves garlic, roughly sliced
1 tsp vegetable bouillon
1/2  tsp salt
1 tsp sugar
2 tbsp olive oil

Place onions and garlic with the oil in a saucepan with a lid and heat for a few minutes making sure the garlic doesn't brown until the onions are soft.
Add the rest of the ingredients and bring to the boil. Wash out the tomato jar with 1/2 jar water and add. Turn down to a simmer and cook with lid on for 15 minutes.
Allow to cool slightly then using an immersion hand held blender, blend till smooth.
Taste and adjust the seasoning if necessary.

Serving suggestion – spoon over the top of roast vegetables and brown rice.

Basil oil

Simple and delicious, full of folic acid and vitamin C. Drizzle over salad or roast vegetables or use as a dip or as part of a mezze plate with hummus and pita bread.

1 basil plant from the supermarket, trim off all the stems with leaves down to the base and wash and drain
1 clove garlic, roughly sliced
4 tbsp extra virgin olive oil
1/2 tsp salt and some freshly ground black pepper

Place all the ingredients with stems and leaves into the bowl of your food processor. Process for a minute till smooth.
Store in a glass jar with a lid for 3 days.