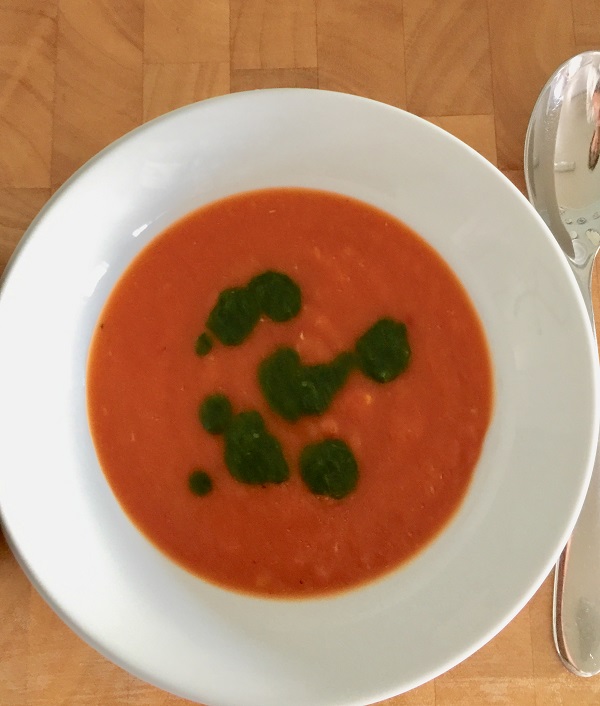 20 Dec

Tomato, sweet potato and red pepper soup with Basil oil drizzle

This makes a great starter at your Christmas table – its vibrant red and green colours are very Christmassy. Nutritional information below.

2 red peppers, deseeded and roughly chopped
1 red onion, finely chopped
2 sticks celery, finely chopped
2 medium sweet potatoes, peeled and roughly chopped
2 cloves garlic, sliced
¼ tsp chilli flakes
2 tbsp olive oil
25g butter (for dairy free omit this and add 2 more tbsp olive oil)
4 tbsp red lentils
1 jar Bunlaun tomato and vegetable sauce or 1x400g tin tomatoes and 2 tins or jars of water
1 tsp salt and good grind black pepper
1 tsp sugar ( to neutralise the acidity of the tomatoes)
1 heaped tsp vegetable bouillon

In a medium size saucepan, melt the butter with the oil and heat, then fry the onions and celery for a minute then add the peppers and fry for a few minutes.
Add the sweet potato, garlic and chilli flakes and fry for a couple of minutes.
Add in the jar of tomato sauce or tin tomatoes and water.
Stir in the red lentils and add the salt, sugar and bouillon.
Bring to the boil and turn down to a simmer and cook for 25 minutes.
Liquidise using a stick blender and check the seasoning.

Basil oil drizzle

1 basil plant, trim off stalks and leaves down to the earth and rinse
1 small clove garlic, roughly sliced
4 tbsp extra virgin olive oil
½ tsp salt and good grind of black pepper

Place all the ingredients into your food processor bowl and process till smooth.
Pour and scrape into a bowl or jar.
Ladle the soup into bowls and serve the basil oil drizzled onto the top of the soup.

Also delicious drizzled over pasta type dishes and tomato salads and avocado toast.

Nutrition info
Red pepper, tomato, celery, sweet potato and red onion  – antioxidants, Vit C, fibre
Garlic – anti viral, antioxidant, anti bacterial
red lentils – silica for skin and hair strength, antioxidants, protein
Basil – antioxidant for immune health, folic acid, anti inflammatory, antimicrobial, magnesium.