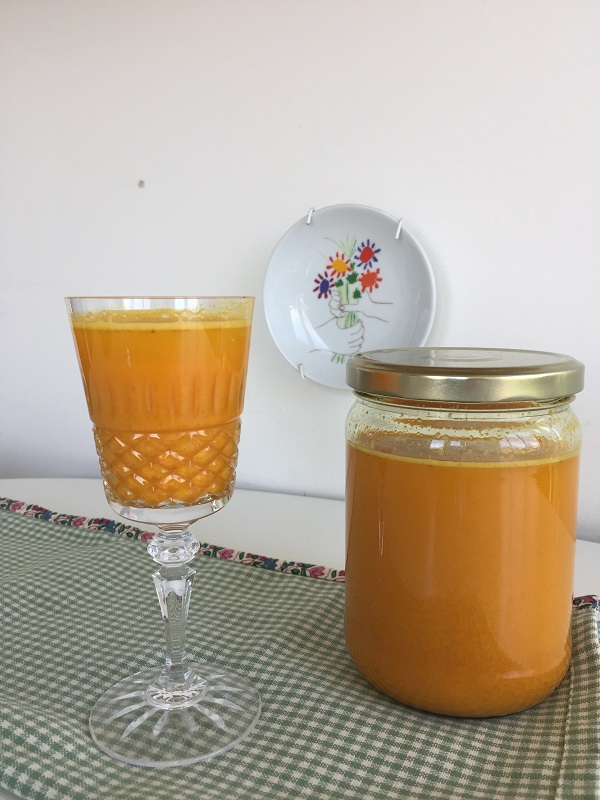 14 Mar

Turmeric and ginger antioxidant shots with carrot celery and orange

Time to dust off the juicer or take it out of the back of the cupboard (that's where mine was for the winter!)
I got the idea for these from a FB post – if you are like me, I'm too lazy to juice everyday so I made up a 500 ml jar full of this one and serve it in a small sherry or shot glass; dilute and sip slowly once a day. It is very strong so you can dilute it as much as you like with water or apple juice and add some honey to sweeten if you like. Keeps well for 4 days in the fridge – I know that juice experts wouldn't agree with keeping it in the fridge – of course it is always better to drink straight from the juicer but if time is short this is the next best option.
Turmeric and ginger are anti inflammatory, antioxidant and great for boosting the immune system, celery is antioxidant and good for correcting water retention, oranges are full of vitamin C and antioxidants and carrots are full of beta carotene the vegetable form of vitamin A and chock full of antioxidants. I used fresh turmeric more widely available in good supermarkets and green grocers.
Use organic fruit and veg if possible.

100g or 4 fingers of fresh turmeric, scrubbed and any bruised ends chopped off
100g fresh ginger, scrubbed as above
3 sticks celery, washed
2 large carrots, scrubbed
2 oranges, peeled
1 apple, washed

Chop up all the ingredients and push through your juicer. Store in a glass jar with a tight fitting lid in the fridge for up to 4 days. It might discolour and separate, just stir it up and dilute with your choice of either water or apple juice or a mix of both.

Serving size – 50 to 100ml juice diluted with 100-200ml water or apple juice.