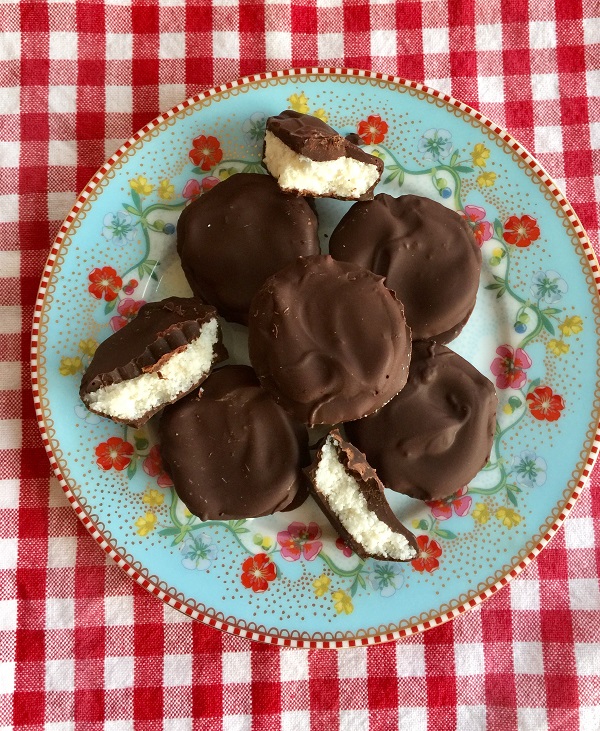 24 Apr

Vegan Bounty Bar Rounds

These are delicious if you love dark chocolate and coconut! I made them in little rounds and one is really enough they are quiet rich. There are lots of recipes for these on the internet and these are a tweaked version of a recipe by Chocolate Covered Katie.  Makes approx 12.

150g desiccated coconut
2 tbsp maple syrup
2 tbsp coconut oil
1 tsp vanilla extract
150g dark 70% chocolate, broken into squares
1/8th tsp salt

Put all the ingredients except the chocolate into your food processor and process for a minute or so until it starts to come together when you pinch the mixture.
Place tablespoonfuls into small bun cases – paper cases will be fine,  I use silicon molds, press in the mixture firmly.   They should be approx 1/2 inch thick discs. Put into the freezer for 30 minutes or until they are hard.
Melt the chocolate in a bowl over a saucepan of boiling water, make sure the water doesn't splash into the chocolate. Remove from the heat and press the coconut discs out of their paper or molds. Put the discs into the chocolate one by one – I use 2 forks to do this, make sure the discs are covered and shake off excess chocolate and place carefully onto greaseproof paper to set. If there is chocolate left over, spoon it over each disc to give an extra layer.
Place in the fridge to fully set and store in an airtight container in the fridge.