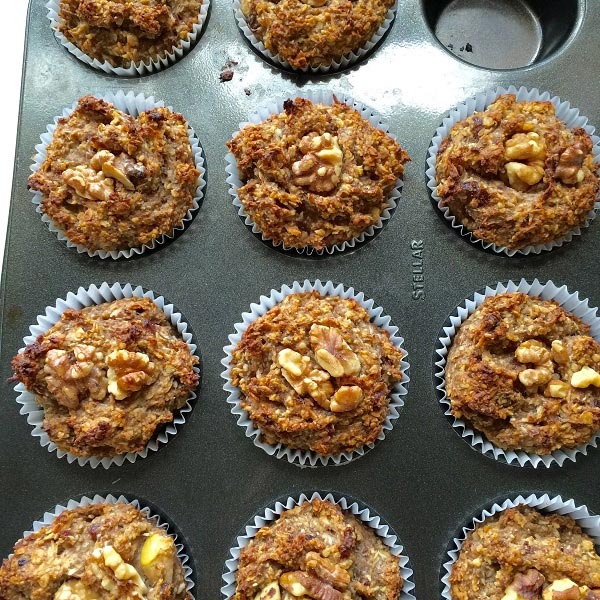 01 Nov

Banana and date muffins (vegan)
Project Description
Great for a snack or breakfast, no added sugar and using chia seeds instead of egg.
100g oats
100g bought ground almonds or ground walnuts (grind in your food processor)
100g wholegrain spelt flour
200g dates, de stoned and softened in hot water for 10 mins then drain
2 medium or 3 small  very ripe bananas
1 small eating apple, finely chopped
50ml coconut oil – i use cocowell from Dunnes
2 tbsp chia seeds soaked in 100ml water for 15 mins
1/4 tsp himalayan salt
Heat oven gas 6 or 200C
Place the bananas, dates and coconut oil in your food processor and pulse till combined but not too smooth.
In a large bowl mix together the flour, oats, salt and ground almonds. Add the apple, banana mix and chia seeds and mix well.
Spoon into a muffin tin lined with muffin cases – fill to the top as they don't rise. Top with a walmnt or pecan if desired.
Bake in the centre of the oven for 30 minutes.
Cool on a wire rack. These can be frozen once cooled.