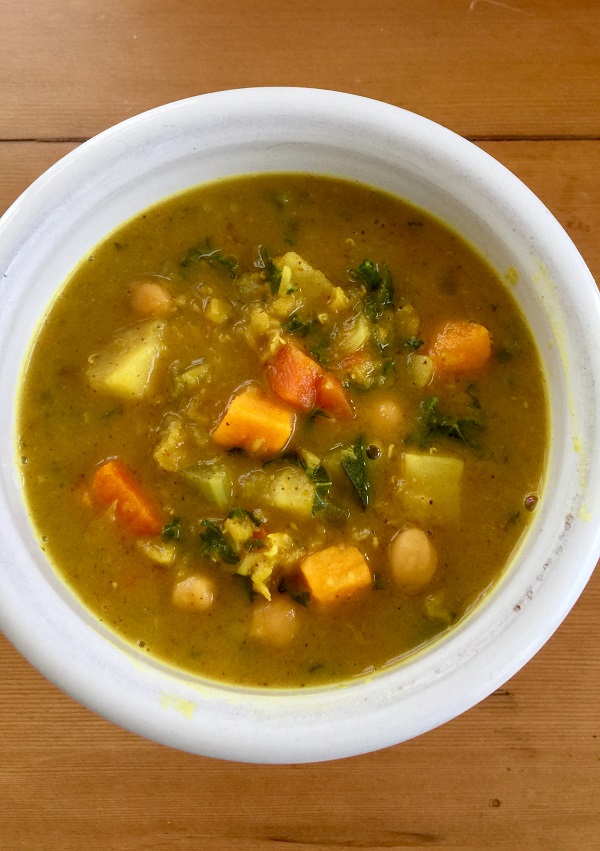 31 Jan

Vegetable, chickpea and red lentil soup/stew with peanut butter and kale

Simple and delicious this soup/stew provides us with lots of protein from the lentils, chickpeas and peanut butter. It  also contains antioxidants from the turmeric and kale and sweet potato and carrots. A meal in itself, you could make it a bit thicker and serve with brown rice.

1 x 400 g tin chickpeas in unsalted water
100g red lentils, rinsed in a sieve
1 onion, finely chopped
2 sticks celery, very finely sliced and chopped
1 small to medium sweet potato, peeled and chopped into small dice
1 parsnip, prepared as above
1 large carrot, prepared as above
2 cloves garlic, crushed
1 courgette, chopped into small dice
1 handful of curly kale, finely shredded
3 tbsp peanut butter
1 tsp cumin powder
1 tsp turmeric powder
1/4 tsp red chilli flakes
2 tsp vegetable bouillon
1 tsp salt
1 tbsp shoyu (aged soya sauce) from the healthfood shop or isle in the supermarket
2 tbsp olive or coconut oil

In a large saucepan with a lid, fry the vegetables except the kale in the oil creating lots of steam.
Add the garlic and spices and fry for a minute, then add the chickpeas including their water from the tin, the red lentils, bouillon, salt and peanut butter.
Add enough hot water from the kettle to generously cover the vegetables.
Bring to the boil and turn down to a simmer and cook with the lid on for 25 minutes or until everything is cooked.
Stir in the kale and the shoyu and let it cook for a further 5 minutes.
Serve as a soup with good wholemeal bread or a side salad for lunch or add a little less water in the cooking and serve as a stew with brown rice.