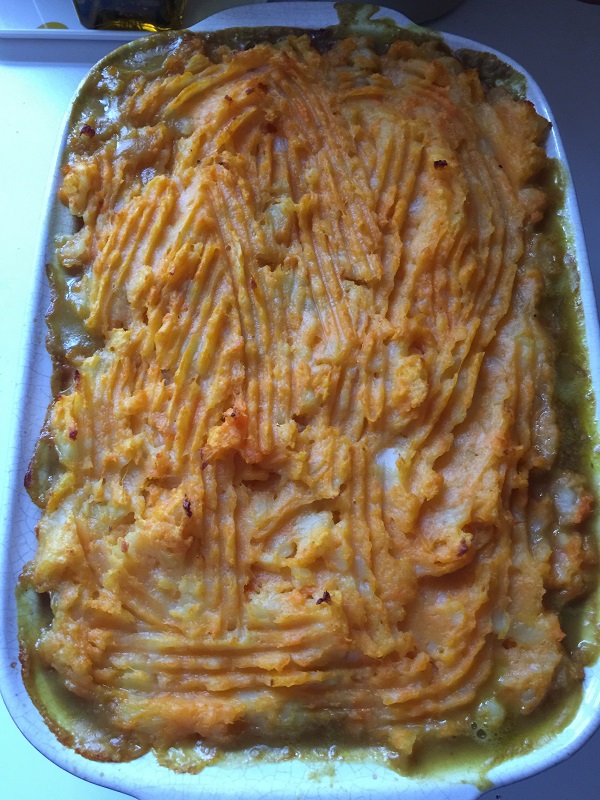 16 Sep

Vegetarian shepherds pie

This is the recipe for the curry with added potato topping

150g red lentils, rinsed
1 x 400g tin chickpeas in water
1 aubergine, diced
2 leeks, washed and chopped into bite size pieces
2 carrots, sliced
1 yellow onion, finely chopped
2 courgettes, sliced thickly
8 mushrooms, sliced
2 handfuls of finely shredded spinach or kale
2 cloves garlic, crushed
2 tsp cumin powder
2 tsp mild curry powder
1 tsp turmeric
1/2 tsp red chilli flakes
2 tsp vegetable bouillon
2 tbsp shoyu or tamari (soya sauce)
1 tsp salt
3 tbsp coconut or olive oil

Potato topping:
Peel and chop 1 large sweet potato and 5 medium potatoes. Cook till soft, drain and mash together with a good splash of plant milk and 3 tbsp olive oil or butter if not making it vegan. Add salt to taste.

Place all the vegetables into a large pot with a lid.  Heat without oil at first until it creates some steam and then add the oil and heat on a medium heat till the veg start giving off their juices, about 10 minutes.
Add garlic and spices and bouillon, cook for a minute or two and then add the rinsed lentils and the tin of chickpeas including the water from the tin. Mix in and top up with water till it just covers the vegetables. Bring to the boil, turn down to a simmer and cook with lid on for 20 minutes until the veg and the lentils are cooked. Red lentils create a mushy sauce like consistency and disappear.
When it is cooked add the shoyu and salt and stir well. Add a couple handfuls of kale or spinach and stir in. These should wilt into the curry without needing further cooking.
Tip the mixture into a large deep pie dish leaving a couple of inches at the top and spoon over the potato mash. Top with some grated cheddar if using and place in the oven on gas mark 6 or 200 C until bubbling and browned. The photo shows it without cheese.