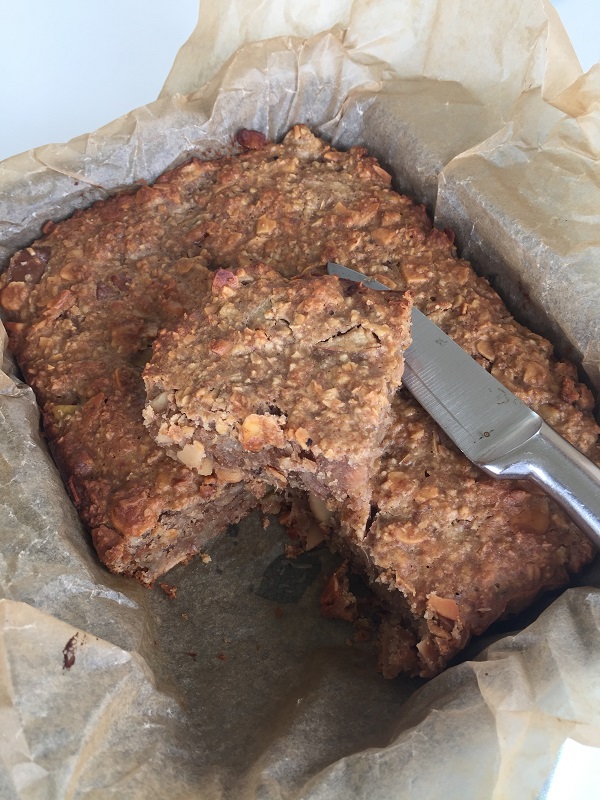 19 Jul

Walnut, honey and apple slice

This makes a lovely tea time treat or even a breakfast on the go. It brimming full of soluble fibre from the apples, oats and nuts to keep our gut healthy and protein from the egg and nuts.

100g walnuts, chopped
100g honey
200g porridge oats
50g wholegrain spelt flour
50g flaked almonds
75g melted butter or coconut oil (pinch salt if using oil)
1 large egg, beaten
1 eating apple, finely chopped
1 tsp cinnamon

Preheat oven gas mark 5 or 190C

Place all the dry ingredients into a bowl and stir in the apple. Make a well in the centre and pour in the butter or oil and egg. Mix well and spoon into a lined shallow tin approx 22 cm x 18 cm.
Bake for 30 minutes in the centre of the oven until firm to the touch and nicely browned.
Leave to cool in the tin for 10 minutes then transfer in the paper to a cooling rack.
When cool slice into squares – makes approx 8 portions. Store in an airtight container for up to 5 days. Can be stored in the fridge.