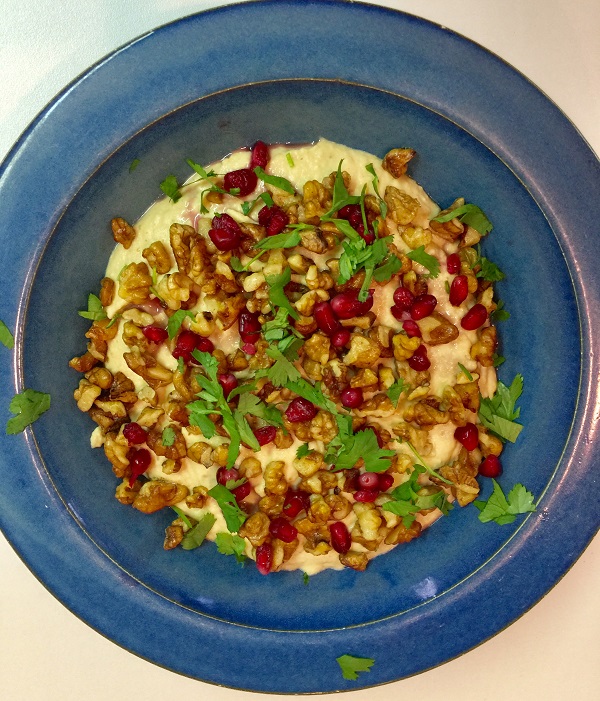 18 Dec

Walnut hummus with cumin, pomegranate and coriander

Another Middle Eastern recipe using Hummus with a twist. Delicious as a starter or to accompany the seasonal winter salad (see under salads). Walnut oil adds a lovely light flavour – it is full of omega 3 as are the walnuts used for the topping, chickpeas add protein and fibre, tahini gives us a calcium boost and pomegranate and lemon gives us Vit C and antioxidants.

Hummus ingredients
400g tin chickpeas in unsalted water, drain and reserve the water
1 clove garlic, crushed
3 tbsp walnut oil
1 rounded tsp cumin powder
1 tsp salt
2 tbsp light tahini
1 tbsp lemon juice
4 tbsp reserved chickpea water

Topping
35g walnut pieces or chopped walnuts
1 tbsp butter or olive oil to make it vegan
Grind of salt and black pepper
2 tbsp pomegranate seeds and some chopped coriander for the top.

Place all the hummus ingredients into your food processor.
Process for a minute or more until smooth like whipped cream.
For the topping – in a small frying pan, heat the butter or oil and gently fry the walnuts until they are lightly browned and fragrant.
If you are using butter, as the milk solids toast it browns and gives a lovely nutty flavour .
Allow to cool a little.
Spread the hummus out on a serving plate or shallow dish, sprinkle over the walnuts and top with the pomegranate and coriander and a swirl of walnut oil if you wish.
Serve with pita or scoop up with whole little gem lettuce leaves or serve alongside the winter seasonal salad.