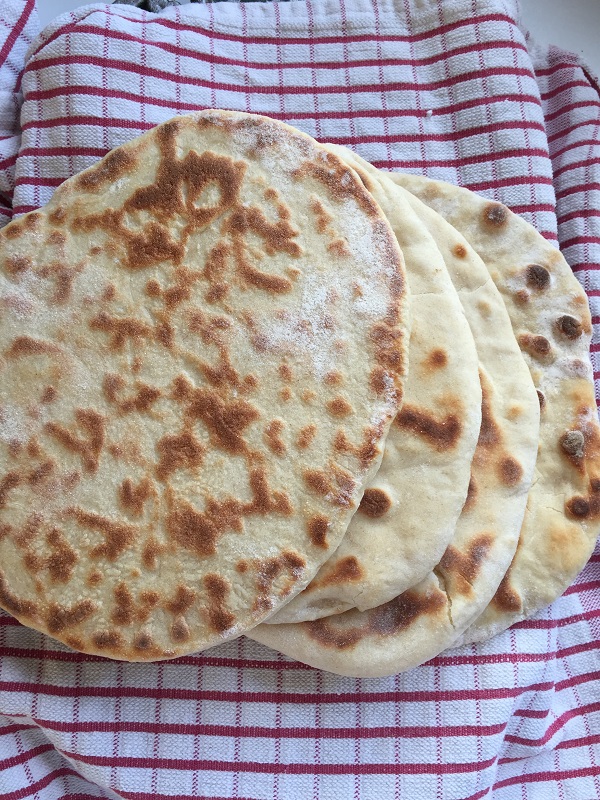 06 Aug

White spelt yoghurt flatbreads with Za'atar (optional)

Great to accompany a curry or use as a flatbread to have with falafel, hummus and salad. So easy to make and these freeze well.
I've added another version using the Middle Eastern herb mix called Za'atar, its made with thyme, sumac (a lemony flavoured dried berry)  marjoram or/and oregano, salt and roasted sesame seeds. I've used a shop bought version here.

200g white spelt flour
150g natural yoghurt (I used cows but soya or coconut will work too)
2 tsp baking powder
1 tsp himalyan or sea salt

2 tbsp Zaatar ( I used 'Zautoun' make from Evergreen)
3 tbsp olive oil

Place the flour, baking powder and salt into a bowl and make a well in the centre and gradually mix in the yoghurt or put all the ingredients into your food processor and process till the dough comes together.
Place on a floured surface, knead for a few seconds and cut into 4 pieces.
Form into balls and roll out to a fairly thin flatbread about the size of your hand.

Without Za'atar – Heat a griddle pan or a heavy based frying pan and when hot place the flatbread (one at a time) on the surface and dry cook (no oil needed) for a few minutes on each size – it might puff up so let it down gradually by pressing lightly with a spatula. It should be specked brown on both sides. Place on a cooling rack and wrap in a clean tea towel to keep warm and soft.

With Za'atar – follow the above instructions to make the dough and roll out into 4 flatbreads.
Place the flatbreads on a oiled large flat baking sheet. Mix the oil and za'atar together in a small bowl and divide and spoon onto the flatbreads spreading over the flatbread with the back of the spoon.
Place the sheet in the middle of a preheated hot oven gas 7 or 250C and bake for about 10 minutes making sure they don't get too brown.

When cool enough to handle cut into triangles and serve with dips or curries.